The sixth and last installment in the Mission Impossible series, Fallout minted Rs 77 crore in the Indian market.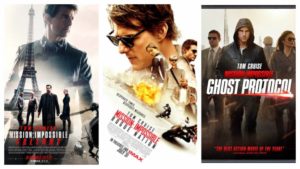 Even before the sixth installment of the Mission: Impossible (MI) franchise came to India, trade pundits back home were confident of a promising start. And thanks to a loyal fan base the franchise has mobilised here over the years, the film did exceed expectations.
With a business of Rs 77 crore in the Indian market, Mission: Impossible — Fallout proved the franchise name, stunts and more importantly, the lead star Tom are enough to help the movie Cruise straight into the hearts of the audience.
While Fallout's earnings indicate the 22-year phenomenon shows no signs of fatigue, there is also no denying its predecessors did their share to keep the franchise a box office success.
In 2015, Mission: Impossible – Rogue Nation, the fifth one of the MI series recorded a phenomenal opening weekend in India. It collected Rs 42 crore and went on to make Rs 78.72 crore. It had released on 1,000 screens in Hindi, Tamil, and Telugu.
Riding on the back of its brand name, the first three parts of the franchise had minted Rs 7.59 crore, Rs 15 crore, and Rs 23 crore. And Ghost Protocol, the fourth installment in MI series changed everything. While stunts have always been a vital component of Mission, Ghost Protocol took the idea of an action set piece to the next level with the showstopping Burj Khalifa sequence and with Tom Cruise doing it for real.
It was in 1992 when Tom Cruise had first pitched the idea to Paramount studios to get one of his favorite childhood TV shows, MI on the big screen where the heroes used their brains, not bullets.
An action franchise, MI has another winning formula which is when long-running films release in close succession their lead characters are given an opportunity to grow into themselves, to live up to their legendary status that pop culture has allotted them.
There is no denying that each film from the MI franchise is putting in all efforts to entertain at the highest level of quality possible with Fallout sealing the deal and also making Mission: Impossible probably today's best movie franchise.